When loading savegame: You just have to choose the appropriate save file to properly save your games.
Snapshots: Are only available for GBA mode games. Not possible with the No$GBA emulation.
Linking, slot, and trading: The NDS Linking, Trading, NDS with slot, and Picto Chat are not yet available with No$GBA.
New Version: Is not yet available. The developer of the emulation, Martin Korth, is not saying anything about it the new version yet.
Sudden crashing of the game without reason: You just have to turn off the Sound option.
Fixers: No$Zoomers fixers are only available with the 2.6a version. Other than this, it is not yet available.
R4 SuperCard 3DS
for playing GBA + DS ROMs games on
Nintendo 3DS
»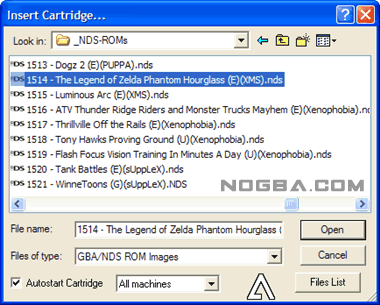 If you are interested about the No$GBA emulator (and some of its utilities), here are the most frequently asked questions related to it:
How can I play DS roms with No$GBA Emulator for my PC?
Here the steps that you should follow to make use of the No$GBA Emulator:
Download the file for No$GBA Emulator.
Copy the file to a specific folder.
For zipped files: extract the emulator file into a new folder
For unzipped files: copy and paste the emulator file to a new folder
Download the DS ROMs. If it is unzipped, just copy the files to the same folder where the emulator file is located.
Select the NoGBA.exe file and choose the ROM you want to play afterwards.
Note: If the abovementioned step result to a "Fail to Read Data" output, follow these instructions:
Go to Options menu. Select Emulator. Select NDS Back-up Media.
Select a save type (typically the EEPROM 64Kbytes).
Select Options and choose Save.
Reorganize the cartridge.
These are just the steps that you need to follow to make the No$GBA emulator work on your PC. After following these instructions, the emulator will be working fine afterwards.